Fixing up your house – for FREE: Project Purge
Ok Moms . . .I might need your help today!
I KNOW that many of you have awesome ideas, creative ways and various experiences with fixing up your house on a budget – and I would love to hear them!
What I am working on this week is fixing up my house – for FREE! 
Yes . . . we are low on cash at the moment, but our house is in need of purging, cleaning and fixing up.  So, my husband took off from work this week (it's Spring Break for our kids here), and our goal is to go through our house, room by room and purge, clean, organize and maybe even rearrange.
Day 1: Outside
(Sorry – I forgot to take "before" pictures.)
Yesterday we spent 7 hours outside!  (OUCH! My body is feeling it today!)  Our yard, bushes and flower beds needed a lot of help.  We trimmed bushes and trees (they'll look better in a week or two!), pulled weeds, redug boundaries for the flowerbeds, cut the grass, sprayed weed killer on our lawn (which might kill off the whole front yard – as I don't think there is much actual grass there!  The back yard is much better), and even power-washed our siding.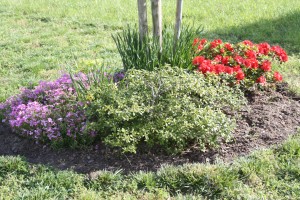 We didn't get around to – power-washing the walkway and driveway, finishing pulling up or killing all the weeds in the flowerbeds, pulling up a brick border along our backyard flower bed (I want to expand the width of the bed (not the one in the pic below- another one) – and would love to do something different than the ugly white bricks we have lining it now . . . but that will have to be for another day when we have $ to replace the bricks and buy new dirt), or laying down mulch.  I meant to order a gift card with my Thank You points from my credit card to Lowe's or Home Depot a couple weeks ago, so that we could buy some mulch for free.  But – obviously I forgot to do that!  So – the mulch will have to happen another day.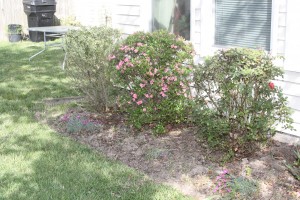 Total cost = $0
We borrowed the ladder and power-washer from my parents, and then used good 'ole elbow grease to do the rest!
Day 2: Playroom
I am not really looking forward to tackling this room . . . but in a way I am.  We enter our house through this room – and I never knew why I always felt immediately stressed!   They say that the first view you have into your house (or a room) will cause you to feel a certain way about it (peaceful, stressed, overwhelmed, etc)  Well – either I need to come in through the front door (much cleaner!) or change some things in this room so it doesn't get so messy so easily!
To be totally and brutally honest – I'm also a bit nervous about "purging" with my hubby.  His take on the stuff in our life is – our kids should have 3 outfits, and a couple toys . . . then there wouldn't be as many messes!  (I think he'd be surprised at how much they can still make a mess with food, wrappers, things they find outside, and even just 3 outfits!)  So – he wants to throw out or get rid of most everything!  I tend to be a bit of a pack-rat (though, I've gotten waaay better over the years!).  We'll see what happens.  I guess God knew we both needed each other to balance each other out!
Our biggest debate right now is the toy kitchen set.  My youngest will be 8 this month – but she and her neighbor girlfriends still play with it.  We also have a niece and nephew that are much younger, and they play with it, and the other preschool toys I've kept around for them to play with.  My husband's viewpoint – "We don't need to supply age-appropriate toys for anyone and everyone who comes over".  My viewpoint – "I'd rather keep a few preschool toys around to entertain them, so they don't get into other things that they could either break or get hurt by."
We'll see who wins in the end.  My husband said "We'll probably compromise . . . and do it your way."  🙂 hee,hee.  We'll see.
So – here's the room (it obviously didn't get picked up last night.  I think we were so sore and tired yesterday, that I didn't even bother making sure the kids cleaned up last night!).  I'll post "after" pictures tomorrow.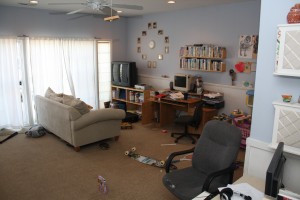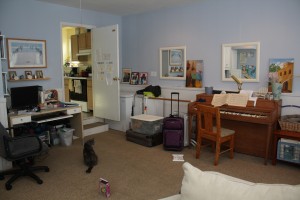 What can you do/have you done to fix your house up for FREE?
I'd love to hear some of your creative ideas for beautifying your house that costs little or no money!
Please share with your friends through the buttons below! Thanks!