Project Purge: Day 5 results
If you missed the 1st 4 days – you can find them here:
I know that this is very belated in posting (not sure what happened . . . Life – I guess!).  – but I wanted to show you the results of  what my kids and I did to their rooms.  (As you can see – their rooms REALLY needed cleaning as much as they did purging!)
Before:
The Boys room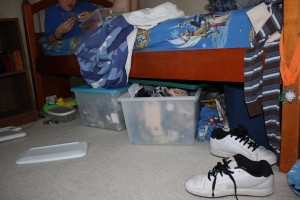 The Girls Room:
Oh my goodness!  I swear – the kids did not purposely mess up their room for the pics.  I think this was one of those weeks where I was busy doing other things – and did not go up and verify that they cleaned their rooms.  ??  I haven't seen it this bad in a while.  Anyways . . .
After:
We didn't get as much done as I would have liked.  I wanted to totally repaint the boys room (they are too old for the train and plane theme on their walls!) and we never did get through the girls' closet or through their clothes drawers.  Other than that – we did get through all the bookshelves, under beds, in the boys' closet and drawers.
Boys Room
The boys got rid of a lot of toys and clothes that were too small.  We didn't get around to doing anything with the posters and things on the wall – but did get rid of one bookshelf and alot of books (and transferred some to the other bookshelf).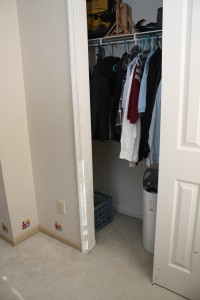 The Girls Room
We didn't get to clean off and purge as much on top of the dresser as I wanted – and we didn't even get into the closet.  That will have to be for another day!
Leftovers
Here is most of what we took out of the kids rooms (mostly the boys)!
What purging project have you tackled lately?  What do you need to purge?
I still have many areas in need of purging.  My goal this summer was to do just that . . . but, like I said before . . . Life happened.  Best laid plans don't always pan out.
I still have a month left before school starts . . . but more than likely – I'll be using that time to enjoy it with my kids.
I can purge when they are in school.  🙂
Please share with your friends through the buttons below! Thanks!