Trophy Child – Review and Giveaway!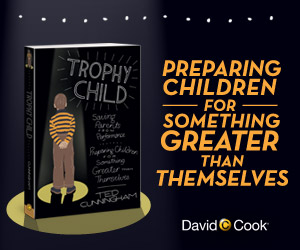 Trophy Child – by Ted Cunningham
I was contacted to review this book – and was excited to.  Why? . . . Because I have the most amazing, special, better-than-average, gifted and talented trophy kids!  🙂
[Hee,hee!]
Well . . . actually, I do have amazing kids (we all do – whether they are behaving that way or not.  God thinks they are amazing!) . . . and some of them are in the "gifted and talented" program in our school system.
But this is one reason why I was excited to read this book . . . to give me encouragement that I'm not the only one out there trying to NOT raise my kids as trophies – but to help them learn how to make wise choices (through mistakes and failures, owning their problems, etc) and allow them to be kids (because if they don't – they will still want to be kids as adults.   Think: Michael Jackson.  That will put the fear in you, eh?!)
[I just need to fight the urge to buy this book in bulk and give as gifts to the parents at the gifted schools! :)]
Fighting the Trophy Parent urge
It's hard in this day and age . . . isn't it?
"So – where does your child go to school?  Where are they applying in the fall?  Mine are at the gifted school.  Little Johnny has been reading chapter books since he was 3, doing 100 piece puzzles before he could talk, and potty-trained himself."
This has been my life for the last 14 years, yes, starting even in preschool.
Our school system tests all 1st graders for "gifted and talented" services . . . and if they pass – they have the option of staying at their current school and be in a "cluster class" with a few other gifted kids, applying for the gifted elementary school, and then later there are a couple of gifted/magnet middle school options, and after that – many high school academy programs to choose from.
There is a lot of pressure to be in this group and at these schools . . . not by the teachers . . . but the parents.
I guess it might depend on where you live – but I know that in many areas . . . the "Tiger-mom" way of parenting (or Helicopter parent–  one who is always "hovering" and pays extremely close attention to their child's or children's experiences and problems, particularly at educational institutions.) seems more and more prevalent.
Over the years I have listened to moms on field trips, comparing their kids, over-obsessing over the homework and schoolwork, what kind of educational activities their kids are going to be involved in all summer to "keep them learning" – on top of all the extracurricular activities . . . dance, karate, piano, violin, soccer, basketball, etc.
I would feel a twinge of guilt try to sneak up that my kids were going to spend the summer at the pool, beach, VBS, the water park or other vacation options.  I was hesitant to share that I secretly wanted to start a petition to ban homework completely (Ted agrees)!
[Is anyone relating here with me?!]
I have watched kids around me have no "kid" life – but are striving to do as much as they can, as best as they can, to out perform all the other kids . . . to please (or obey) their parents.  One kid's summer schedule had me exhausted before he even finished telling me about it!
I can feel the draw . . . the slow, steady, water-torture force that causes me to want to jump in the conversation . . .
"Well – my oldest taught himself all his letters and numbers before he was two! . . . My child scored a perfect score on this test. . . . . My child could do 200 piece puzzles when he was in the womb!"
It's ridiculous.
It's not healthy.
So why do we do this?
Non-Trophy Parenting
I grew up in a family with a very laid-back style of parenting . . . with loving parents that let us take some lessons in things we were interested, but let us have plenty of time to just be kids – playing until the street lights came on.  We went camping, had tea parties, built forts in the neighborhood park, went ice skating at our neighborhood rink and so much more.  There was not a lot of pressure to be the best, to over-achieve, or to have to think about my life plans and what I wanted to "be" by the time I'm in 7th grade.
We were allowed to be kids and not forced to grow up too quickly.
Times have changed.
When my 4th child was in second grade he had been given a poster project to complete – and I had given him the poster board and showed him where the supplies were – and then let him go to town on his own (as it was HIS project).
Was it perfect?  No.
Were the letters written super-neat or even aligned correctly on the poster.  No.  He was only 7!
But he worked hard, did his best, asked for a little help when needed, and, as much as the non-perfect aspects of it could drive this perfectionist crazy . . . this was his project – and he did a great 7-year-old job!
I went to school one day and happened to see all the other kid's projects.
[I don't recommend doing this for parents who really struggle with achievement issues and Trophy parenting!]
I swear there were at least 15-18 out of the 22 posters that had to have been done by the parents!  Color graphs, laminated boards and presentations that would put an advertising agency to shame!
[I thought the point of school was for the kids to learn and do the work!]
I do believe in challenging my kids to do everything with excellence to God's glory ("And whatever you do, whether in word or deed, do it all in the name of the Lord Jesus, giving thanks to God the Father through him." Collossians 3:17) – but I also believe kids need to be kids . . . and we are in their lives to allow them to learn and grow (through making choices – sometimes good, sometimes not-so-good, make mistakes, own their problems . . . like leaving their lunchbox or project/homework at home, etc) – so that they can become happy, healthy and whole adults who know how to handle and deal with life!
Trophy Child

[Watch the short video intro first!]
THE AUTHOR
Pastor Ted Cunningham founded Woodland Hills Family Church in Branson, Missouri, where he lives with his wife and two children. A graduate of Liberty University and Dallas Theological Seminary, he is the author of Young and in Love and has coauthored several books with Dr. Gary Smalley, including The Language of Sex and Great Parents, Lousy Lovers.
Contents
Chapter 1: Trophies
Chapter 2: Trophy Parents
Chapter 3: Know Limits
Chapter 4: Everything Jesus Said about Children and Parents
Chapter 5: Spiritual Journeys
Chapter 6: Kids Who Follow Jesus
Chapter 7: Preparing Our Children for the World
Chapter 8: Adulthood Milestones
Chapter 9: Great Parents, Lousy Lovers
Scripture Index
Notes
What I Liked
Ted Cunningham's writing style is very easy to read, engaging and you feel like you are chatting with a fellow parent who has (and sometimes currently does) struggle with this pressure that is all around us to raise trophy kids.
He encouraged me in how we are trying to raise our kids, but also challenged me at the end of each chapter with his "Parent Gut Check" questions. 
One that really stuck with me and that I want to keep in front of me in my life is this one – "If your children explained to me your love for Jesus, what would they say?"  Hmmm . . . I might just have to ask them!
Ted shares with us the 5 primary motives of parents who display their children as well as the 7 different kinds of Trophy Parents (Vanity, Perfection, Competitive, Companion, etc).
He challenges parents to know their limits and their kid's limits (emotionally, relationally, spiritually, and mentally).
He teaches and encourages us in helping our kids to know and follow Jesus and grow up into mature adults.
For 20 pages in the middle of the book, he shared with us the simple and easy to use and remember ABC devotionals he uses with his kids to help instill Godly principles and the word of God into their kids (however . . . "U for Unicorn" . . . he said "unicorn" wasn't in the Bible.  Ted – there actually is the word "unicorn" in the KJV Bible 9 times.  🙂  Though – they probably are not the type of unicorns our kids think of today.)
And finally – he reminds us that our family should not be kid-centered, but marriage-centered. At the end of the book – he shares 20 different creative and fun ways to help spice up our marriages . . . which truly need to be the main focus in the family to bring stability and health to the whole family.  [Amen!]
What I Disliked
My only issues with the book (minor ones) are his "trophy" name-dropping he does throughout the book that didn't seem to always apply or seem necessary to the stories or information he was sharing, and then secondly – how the book ends.
In the middle of a story on adoption (p. 215) he says – "Gary Smalley and I were in Phoenix for a marriage seminar right before Sammy turned one."  I expected Gary Smalley to be a part of the story based on that introduction/beginning – but he wasn't.  This just seemed out of place and like a "trophy" in a way.  A page later – "I recently encouraged some couples with special-needs children while on Focus on the Family radio."  Again . . . does it truly really matter what radio station he was sharing on?
I know that this probably just goes to further his credibility in some way (?) – but the back cover already states he's written books with Gary Smalley.
Anyways . . . that's just something minor . . . but it just hit me kind of funny to find this in the midst of a book on our "culture's obsession with achievement".  🙂
As for the ending of the book –  the last chapter gives those 20 creative ideas to do with your spouse, then ends with the "Parent gut check" questions.  I turned the page expecting a conclusion of some sort – a chapter or even a paragraph tying it all together.  But there was only the Index pages.  I ended the book a bit confused that it ended so abruptly . . . like a conversation that got cut off by a lost signal on my cell phone.
Oh, one last disagreement I have (more of a major one than the last 2 dislikes) is with a statement he made on page 166 (talking about being aware of evil in our society and people).
"I believe that one of the worst things parents can do is teach their children to look for the good in every person.  It sounds sweet, loving, and the "Jesus way" of doing things, but it isn't shrewd. One of the greatest lies we teach our kids is that there is goodness inside all men, and you just have to look for it – but in reality, the opposite is true."
And earlier he stated "One of the most important things we must teach our children is that people innately have evil in their hearts . . ."
Worst things parents can do . . . ?
Greatest lies . . . ?
Most important things we must teach . . . ?
Seriously?!

Were we not ALL made in the image of God?  If He is good – and we are made in his image . . . there is good in us . . . but not everyone is living out that good (and yes – some are still sinners – and do have evil thoughts, etc as he mentioned in Mark 7:18-23).
However, I am called (no COMMANDED) to love everyone – to love my enemies, those that persecute me and more (and Ted does encourage teaching our kids this earlier in the book – to respond in love when kids at school are mean) – as Christ loved me . . . as he loved the "evil" sinner on the cross hanging next to him, as He loved the tax collectors, adulterers, murderers and more.
It doesn't mean that I don't set boundaries, that I don't protect my kids or myself from potential harm, that I don't make them aware of evil and the enemies schemes and plans . . . but we need to remember just who is "evil" . . . Satan.
We were not made in Satan's image.  We were "fearfully and wonderfully" made in God's.  I know that God has stamped his DNA in each and every one of us – and it is not my responsibility to judge and label who is "evil" and has "no goodness" in them.
Really?  NO goodness?  Zero?
And how am I to truly know?  I am not omniscient.
Maybe it's not the person who is "evil" but the enemy who is working through them (and their sinners heart with it's "evil thoughts", etc)!
I just recently spoke at a MOPS meeting on Love Courageously – and used the acronym LOVE to describe not only how and why God loves us – but how we can love others.
L – (the) Lord
O – Outrageously
V – Values
E – Everyone!
And we are called to do the same:
L – Lavishly
O – Outrageously
V – Value
E – Everyone!
Not some people . . . but everyone.  We honor, not because someone deserves it, but because we are honorable, and because that person is made in the image of God and HE is honorable. But, this is a topic for another time that I'll post later.
I understand his point as a protective father – but to make such bold statements about the "worst things" we could do, or that these are the "greatest lies", etc  and that basically implying we can be the judge of who does and does not have goodness in them. . . really crosses the line.
Overall
With that being said though –  I did like the book, was challenged, loved many of his stories, could relate in many ways, and realized . . . I'm not doing too bad of a job after all!
This book encouraged me to not let the Trophy Parenting society suck me in [whew!]- and it brought some peace to know that I am the best mom for my kiddos – that God trusts me with them -and that together He will help me teach, train, lead and guide them into adulthood and maturity.
Now . . . I think I need to get off the computer and put one of the 20 creative marriage ideas into practice!  🙂
Giveaway!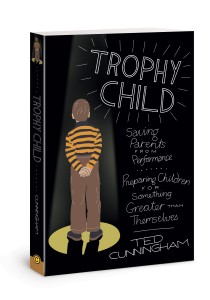 If you would like to have your own copy of this book – Ted Cunningham and David C. Cook publishers would love to send one to the winner of this giveaway ($15.00 value).
To Enter:
January 16th – 23rd
* Leave a comment/answer below:  In what way do you feel a tendency/are drawn to be a Tiger/Helicopter/Trophy mom or dad? (or other comment)
Additional entries
In separate comments – leave the url for where you:
1. Shared this post on Facebook
2. Pinned this post on Pinterest
3. Tweeted this post on Twitter
Good luck!
Winner will be announced on Jan 24th (my Birthday!).  I think it's fitting to give a gift to someone on my b-day!  Come back then to find out if you've won!
*Disclosure: I was given a free copy of the book to review.  All opinions are my own.
Please share with your friends through the buttons below! Thanks!