Starbucks BOGO Holiday Drinks! Yum!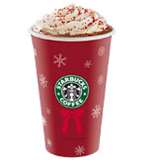 Starbucks BOGO FREE Holiday Drinks
November 17-20th: 2-5pm
Grab a friend (or a spouse) and head on over to the closest Starbucks for your Buy One Get One FREE Holiday drinks!  YUM-MY! 🙂 The Caramel Brulée Latte is my FAVORITE!!  (I wish they had it all year!  I'm a sucker for anything caramel!)
For official details: http://merry.starbucks.com/en-us/#/bogo/.
For Starbucks offers on your phone, text MERRY to 697289.
For those wondering which drinks qualify as Holiday Drinks:
Peppermint Mocha: Peppermint lovers rejoice! Your holiday favorite is back.
Caramel Brulée Latte: Warm up with sweet, caramel goodness.
Gingerbread Latte: Enjoy the flavor of freshly baked gingerbread.
*THANKS to Lori from The Coupon Consultant for reminding me of this!
What is your favorite flavor?!
Please share with your friends through the buttons below! Thanks!