REDBOX: Send your Friends a FREE Valentine's DVD Rental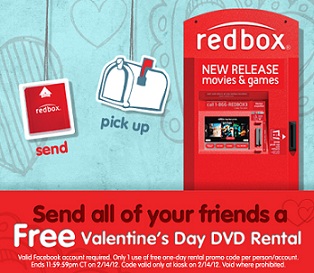 What says "I love you" more than a FREE movie rental?!  🙂
{ok, ok . . . maybe flowers, dinner, and THEN a free movie!}
To send your friends a promo code for a FREE one-day DVD rental (that must be used ON Feb. 14th) just visit Redbox on Facebook and click on the "send" part of the picture to give a valentine to your Facebook friends!
Happy Valentine's Day!
Please share with your friends through the buttons below! Thanks!