Recipe: Streusel Pumpkin Pie (the BEST ever!)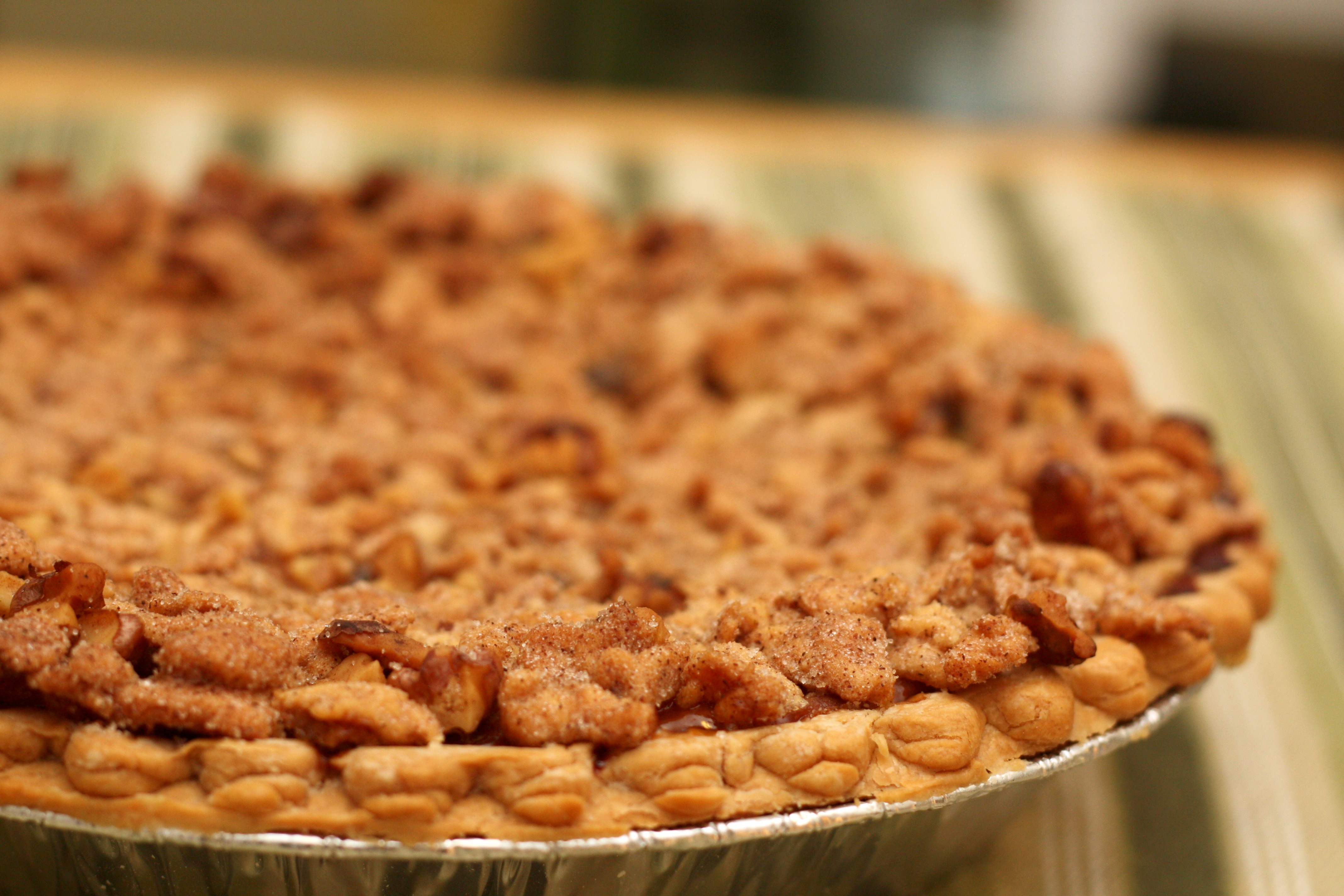 This ain't your mama's pumpkin pie!
Every year I count down the days till I can (legally) make this pumpkin pie each Thanksgiving and Christmas!  (I've been tempted to make it in the summer too . . . but is that allowed? :))
I wish I could say this was MY recipe – that I created it myself  – but I'm an honest person . . . it's not.  I cut it out of a magazine years and years ago – and after making it once . . . it has become a family favorite (and a MUST have every Thanksgiving & Christmas)!  These holidays in the West/Fox house would not be the same without "Lori's pumpkin pie"!  I also have a KILLER stuffing recipe that we all drool over/for each year . . . well . . . not all of us.  My hubby is forever a StoveTop Stuffing and canned gravy kind of guy!  Sad.  I know.  🙂  Maybe I'll post it today too.  (You'll have to use it next year!)
I never liked pumpkin pie . . . until I ate this.  I don't even know why I cut out this recipe since I didn't like pumpkin pie.  It must have been the fact that there are nuts on the top!  I'm a sucker for things with nuts!
So – for all my friends and family who have been begging me to post the recipe today . . . here you go!  You'll never want to go back to plain pumpkin pie again!
Streusel Pumpkin Pie
2 eggs
1 can (15-16 oz) solid pack pumpkin
1 can (12 fl. oz) evaporated milk
3/4 cup plus 2 tbsp. sugar, divided usage
3 tsp pumpkin pie spice, divided usage
2 deep dish pie crusts, frozen (though – I use one deep dish and 1 regular size. They come in a package of 2 – so you could make 2 pies now – or save the other set of crusts for Christmas)
1/4 cup chopped walnuts
Preheat oven and baking sheet to 375°.  In large bowl, whisk together eggs, pumpkin, evaporated milk, 3/4 cup sugar and 2 tsp pumpkin pie spice.  Place one (deep dish) pie crust on preheated baking sheet.
Pour filling into pie crust.  Bake  for 30 minutes.
Meanwhile, break or crumble second (regular sized) frozen crust into very small pieces; mix with remaining 2 tbsp. sugar, 1 tsp. pumpkin pie spice and walnuts.  Sprinkle over partially baked pie.
Return pie to oven and bake an additional 40 minutes or until knife inserted in center comes out clean (my old oven takes a little longer than these times).  Cool completely before serving.  Top with whipped cream!  Yum!
Makes 8 servings.
Note: If using regular pie crusts instead of deep dish, use 4 crusts to make 2 pies with this recipe.  Bake pies an additional 20 minutes after sprinkling with streusel topping.  Makes 12 servings.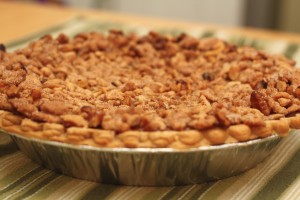 What yummy dessert did you make (or eat) today?!
Please share with your friends through the buttons below! Thanks!