Money Monday: Money Saving Mom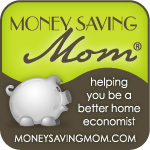 Today I wanted to share with you one of my favorite blogs/sites – Money Saving Mom!  It was started and is run by Crystal Paine – a mom (like you and me) with 3 kids – ages 6 and under!  I don't know how she does it all – but she inspires me!  When she is not blogging and keeping us informed of the many money-saving deals and ideas out there – this is what she loves (as if being a mom, or running a busy blog wasn't enough!):
When I'm not homeschooling my daughters, bargain-shopping, or blogging, I enjoy tweaking recipes and baking big batches of things for the freezer, engaging in thought-provoking discussions, trying to keep up with politics, indulging in dark chocolate, drinking a hot cup of tea while reading a good book, or spending a quiet day at home with my family.

I like to keep it simple, I disdain clutter, I like to laugh, and most of all, I love the Lord and my family. And that pretty much sums it up.
Her goal is to to share "legitimate, practical, non-gimmicky ways to help you save money in your everyday life." She does a great job at this – and you can tell this is a passion of hers . . . helping all of us stretch our budgets, live frugally, and still enjoy our lives!
You can check out her "beginners page" for those that are feeling overwhelmed by starting to live more frugally – including "couponing".
31 Days to a Better Grocery Budget
If you are a busy mom (isn't that synonymous?!) then you might want to check out her "31 Days to a Better Grocery Budget"  blog series as well as the video series.  The blog posts are not too long, and each video is only around 3-7 minutes – easy to watch in a busy mom's life – but still full of information, encouragement and help for those feeling overwhelmed at how to even begin to change and help their grocery budget.
On her site you can find a coupon database as well as free downloads (printables), money-saving deals and ideas, and guest posts sharing how others have paid cash for some pretty significant items, projects and more.
If you stop by Money Saving Mom – let her know I said Hi! 🙂
Ok – she might not really know who I am (yet :)) . . . but she has been such a blessing in my life this year!
Who/What helps you save money?
Do you have a favorite website or blog that helps you save money and steward well what God has given you?  I'd love for you to share it with me!  Please post it below in the comments!
Please share with your friends through the buttons below! Thanks!