I'm still here!
Oh my dear friends and readers . . .
Let me put your fears to rest . . .
I have not died.
I have not disappeared to some strange land without internet accessability . . .
I have not even gone on a month long tropical vacation or cruise . . . [Dang it!]
I'm still here!
Has life ever thrown you a curve-ball, changed course on you unexpectedly or just got so crazy-busy that you couldn't keep all the "balls" or "plates" in the air?  [Nah . . . I didn't think so.  I knew it was only me!]
This past month (and longer) – I came to the realization that I am NOT Superwoman (or Supermom) – though I do have a picture proving I am Wonder Woman!  🙂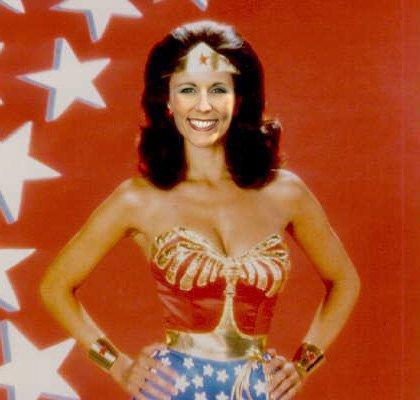 Ok – so I've known for a long time that I am not Superwoman, Supermom or even Wonder Woman . . . but yet – I still try to do it all?  (Do you ever do that?)
I have to be honest . . .there's a lot of pressure out there to be these things – to be perfect and have it all together and accomplish a ton.  I read other mom blogs . . . and sometimes I come away from the computer either feeling stressed out just reading their to-do and goal lists for the week –
"Goals for this week:  Read 1 million books, give all my things away to the poor, adopt 250 orphans, knit my own underwear and make my own toothpaste, deodorant, shampoo, make chocolate sprinkles for my child's homemade birthday cake that has to feed 150 guests and goes along with the homemade decorations, party favors, presents and food that I discovered on Pinterest and then made in my spare time between homeschooling all 100 of my kids, running my own successful blog, writing 10 books, speaking at 100 events and keeping a spotless and organized house that I have taken pictures of, edited to be works of art and posted on my blog and FB page to prove it . . . all just this week!"
. . . or I start to feel terrible about myself as my goals for the whole week might have been . . . write one blog post (hopefully . . . maybe), make sure the kids don't kill each other, help their "hearts heal" from any sibling, friend, school or other issues, love on my kids and hubby, read 1 book for myself (or maybe only 1 chapter of a book, or part of a chapter – because I'm reading a book with the kids instead), make sure there is some semblance of food (not necessarily nutritious) on the table most nights, hopefully get to bed before midnight so as to get at least 6 hours of sleep, and most importantly . . . spend time with God – soaking in His love, His presence, His power, grace and mercy  – so that I am a better mom, wife, friend and more!
A Human DOing or a Human BEing?
We all know, even our kids know – we are called Human BEings . . . right?
So why then do we choose to live as if we are Human DOings?
I LOVE to accomplish things.  I loved knowing who I was by what I did and what I accomplished.  I was confident in many ways . . . except one . . .
I truly didn't know "who" I was.  I knew "what" I did – but "who" am I really if it's not labeled and determined by what I do?
Well . . . God has a way of helping us find that out!  And for me (this stubborn and a bit rebellious person that I am) – it took me a while to fully learn and grasp the truth.  But I have to say – over the last 6 years since God called me to be a stay-at-home-mom . . . I've been learning – and I am so thankful!
I AM a Daughter of the King!
God loves me just because I am ME!
God loves it when I spend time with Him instead of just doing things for Him!
God would love me if that's all I ever did . . . knowing full well that it's not all I'll ever do – as that love I soak up by spending time with Him compels me to go share it with others . . . but this time out of a place of "BE"ing with God and not "DO"ing for God (or myself or others).
So – Where have I been?
I've been here.
I've actually been working outside the house quite a bit – as a nurse giving flu shots at various clinics.  I've also started mentoring 2 amazing young ladies, have been volunteering quite a bit for my son's choir fundraising, as well as taking a class on "Designed to Influence" and one on Theophostic Prayer Ministry (to help my kids heal from their heart hurts now instead of having to watch them struggle with things while growing up and have to go to therapy as an adult . . . as well as help myself and others heal and be set totally free to enjoy the abundant life God gave us!).
During this past month (since I am not Superwoman!) I had to let some things go and unfortunately blogging had to take a back seat for a little while (BUT I've thought about you guys a lot – and have tried keeping in touch some via Facebook!  Join me there!).
But I'm back!
After a month of working outside the house to honor my husband's request to help out more with some unexpected financial issues that came up – my hubby thankfully came to the conclusion that having me out of the house so much was not the best for our family of 5 kids (YAY!  PTL!) – and that, in light of all the prophetic words that have been spoken over me about writing and being a mom, and the calling and desires in my heart . . . He wants me to be at home . . . and write! (I'll have to share more at a later time about this and other ways God has been shaking, changing, healing, transforming, teaching and causing us to grow in our marriage, relationship and more.  God is truly amazing!!)
YAY! 🙂
So . . . I'm still here – and I'm hoping to write more and truly write what is in my heart – what I am passionate about, and not just what I think the masses want to hear or find on my site or what would be good for advertising.
What I love
Yes – I love couponing (well . . . I should say – I used to love it . . . as lately I have not done it due to less time to focus on it.  We'll see if I get back to couponing or not.  I'm starting to think Peaceful Mom has it right with her "Save more Clip Less" book! Definitely less stress and time taken!) . . . but I don't want to be a site just about couponing.
I love finding and sharing deals . . . but I don't want to be a blog that just shares deals.
I love a lot of things (and have said I wish I had 100 lifetimes to do everything I want to do!) – but what I want to do here at Mothering Matters is truly share what's inside of me . . . share what we have struggled with here, what we are currently struggling with, how I am handling it (even if I didn't handle it well!) and hopefully it will help, encourage, uplift and nurture your hearts as well.
My main goal in life:
To let (God's) LOVE flow and be evident in everything I do – and to connect the heart of God with the heart of His kids!
That's you!
I want to nurture the hearts of moms.
I want to nurture the hearts of my kids and help heal their "heart hurts".
I want to have a fantastic relationship and marriage with my hubby and beat all the statistics out there!
I want to share the love of God with everyone I meet and truly be a conduit of His amazing and life-transforming love . . . even in the interactions with difficult people that we encounter throughout life or those that the world would deem not worthy or as unloveable.
This is who I am . . . and this is what I want to share.
I hope you'll stick around to find out more and share in this crazy and amazing journey of motherhood with me.
My life is not perfect . . . and I feel like I'm winging it many days . . . but with God's grace, mercy, love and wisdom – I don't think I'm doing too bad a job!
[Repeat to self: I'm a good mom!  I'm a good mom!  I'm a good mom!]
What would you like to hear more about on Mothering Matters?
What issues do you struggle with or have concerns about?
Let me know!  I'm here for you and am not just here to dish out advice or share my family's crazy antics – but to pray for you, with you, encourage you and let you know . . . you are not alone!
Please share with your friends through the buttons below! Thanks!