Frosty the Snowman Fridge!
What do you do when you have an ugly, old, rusty, falling apart white fridge instead of one of the fancy and amazing-looking new stainless steel models that are all the rage right now?
You do something those fancy stainless steel fridges can never do . . .
Bring Frosty indoors – and make a Snowman Fridge!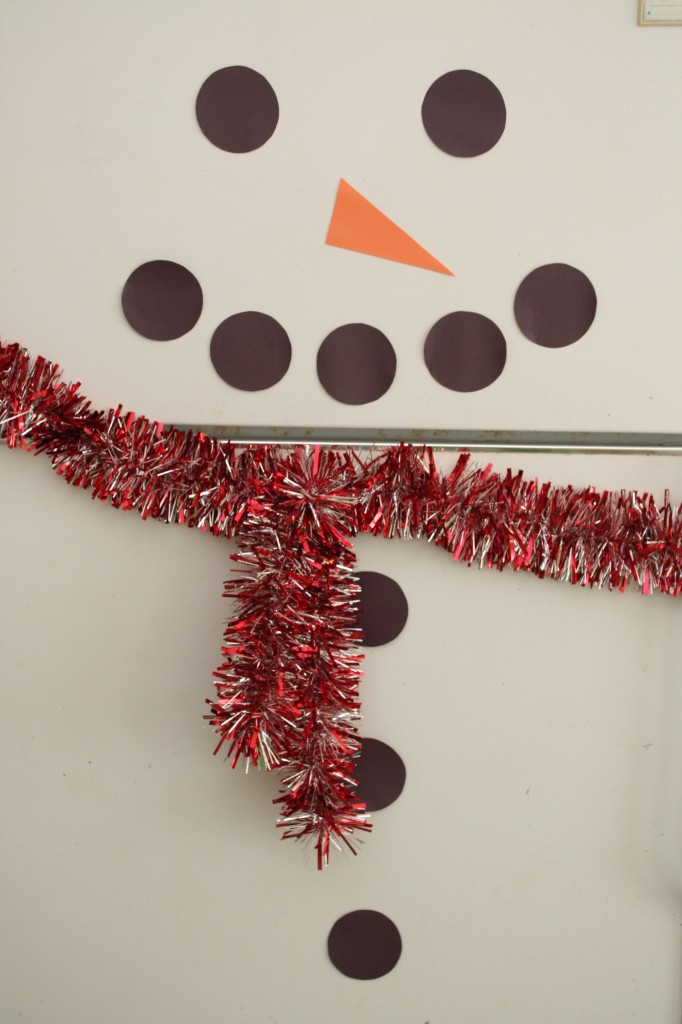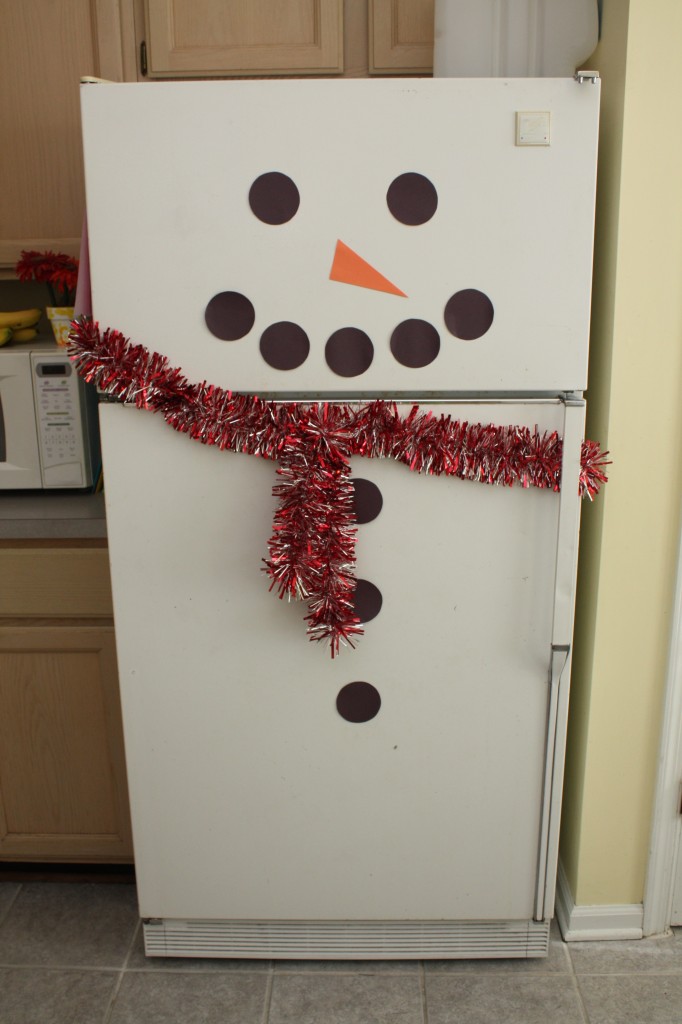 Want to make your own Snowman Fridge?
I know you do! 🙂
1. Remove all the magnets, kid's artwork and other paraphernalia from your fridge (I know . . . it feels weird not having it all on there!  I went to put something on the fridge tonight and then realized I couldn't!)
2. Use a cup/glass to trace the sized circles you want for the eyes, mouth and buttons out of black construction paper.  You can make them different sizes, or all one size (much easier!). Tape them on the fridge.
3. From orange construction paper – cut out a triangle for a nose.  Tape to fridge.
4. For the scarf – my friend used wrapping paper, but when I was at the store last night and saw this garland . . . I just had to get it instead (not as cheap – but way cooler!).  I cut two strips and loosely tied them in the center (not in a knot – just wrapped over the other one once to let it hang).  I used scotch tape (or could use double-sided tape) to attach to fridge.
5. But to make sure you can actually open your fridge doors – do not truly wrap it over the seams.  Here's a pic of how I cut it and taped it.
Doesn't this just make you happy?!  🙂
It did for me!  I hate my old, ugly, rusting fridge . . . but the fact that I can make it into a snowman (one of my favorite winter symbols and decorations!) . . . I have to say . . . I'm giddy with delight tonight!  🙂
. . . Maybe I'll have to rethink getting a new stainless steel fridge one day . . . 🙂
Have you ever made a Snowman Fridge?
Or what is one of your favorite ways to decorate for the holidays?  Please share below!  Thanks!
Please share with your friends through the buttons below! Thanks!