FREE Christmas Planning Kit – Power of Moms
Here's another FREE tool for you from the wonderful women at Power of Moms.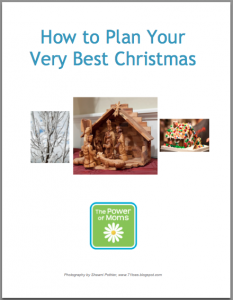 From April Perry: I decided that if I wanted Christmas to be simple, peaceful, and full of things that matter most, I needed to sit down and plan it.  By following the steps I'm about to outline below, our Christmas last year became the best one I've ever had.
In case you'd like to join me this year, I've put together a special Christmas-planning template based on our Mind Organization for Moms program.  We're going to use the five steps of David Allen's Natural Planning Model (from the book Getting Things Done) and Christmas is going to be phenomenal.
For more info – Check out their post – Planning What Matters Most at Christmas
What helps you plan for a peaceful Christmas season?
Share with us below one of your favorite tips that help your holiday season go smoothly.
Please share with your friends through the buttons below! Thanks!