First Mammogram . . . How to turn melons into pancakes.
My First Mammogram . . .
"Just check over this information and make sure it's all correct" the friendly receptionist said as she handed me my paperwork.
"My age is wrong . . . I'm only 29 . . . still." I replied jokingly.
At first she and her cowoker didn't laugh . . . looked at me for awhile . . . then realized I was joking when I said "I'm not really 41, am I?"  (Hmmm . . . maybe that means that I actually LOOK like I'm still 29 and they couldn't tell! 🙂  YAY!)
Yes – I'm more than a decade from being 29, and it was time (well, actually PAST time) for the event all us women look forward to . . . painfully turning our melons into pancakes!
I have to admit, I was a bit scared.
I'd heard the horror stories . . . of pain . . . of cold, hard metal plates, of your breasts never being the same and more.
I read this humorous (more like psychologically scarring) set of "exercises" years ago (way before I was even 29!) and I hoped . . . maybe I won't have to have it done.  (yeah right!)
The Joys & Thrill Of Mammograms
This is an x-ray that has it's own name because no one wants to
actually say the word "breast". Mammograms require your breast to
do gymnastics. If you have extremely agile breasts, you should do
fine. Most breasts, however, pretty much hang around doing nothing
in particular, so they are woefully unprepared. But you can prepare
for a mammogram right at home using these simple exercises!
EXERCISE 1:
Open your refrigerator door and insert one breast between the
door and the main box. Have one of your strongest friends slam
the door shut as hard as possible and lean on the door for good
measure. Hold that position for five seconds. Repeat again in
case the first time wasn't effective enough.
EXERCISE 2:
Visit your garage at 3 AM when the temperature of the cement
floor is just perfect. Take off all your clothes and lie comfortably
on the floor with one breast wedged under the rear tire of the
car. Ask a friend to slowly back the car up until your breast is
sufficiently flattened and chilled. Turn over and repeat for the
other breast.
EXERCISE 3:
Freeze two metal bookends overnight. Strip to the waist. Invite
a stranger into the room. Press the bookends against one of
your breasts. Smash the bookends together as hard as you
can. Set an appointment with the stranger to meet next year
and do it again.
EXERCISE 4:
Locate a pasta maker or old wringer washer. Feed the breast
into the machine and start cranking. Repeat twice daily.
You are now properly prepared.
See what I mean?!  There was no way I was ever having that done (or so I hoped)!

I survived my first mammogram!
Well, I'm here to say . . . I survived!
I had put it off for a year and a half since my midwife told me to go get one (and then chastised me a year later for not getting one and told me to do it!  I know, I know . . . I will . . . . one day.).  I even wrote an article about how a mammogram saved the life of an acquaintance of mine – but still . . . I kept putting this at the bottom of my list.
Well – I'm glad it's done, and I have to say . . .
It wasn't that bad!
Now my mom said it's because "if you have bigger boobs it doesn't hurt".  ?? (Guess I have 'bigger boobs'?) I don't know if that theory is true or not, or if it's because I have no working nerve endings left (or they have been conditioned to a higher pain tolerance) after breastfeeding 4 kids (yes – nursing babies with teeth who get distracted but don't want to let go of your breast to see what's going on = pain!).
Or maybe it's because I don't really have "melons" anymore . . . I've been told I have bananas.  🙂
My melons are melons no more . . .
One day I was getting out of the shower and my toddler came in as I was leaning over drying off.  She toddled over to me, looked up, pointed and said "nanas!".  At first I didn't know what she was saying or why she was saying it – but she was clearly pointing to my boobs that were dangling there in front of her.
Did she just call my boobs 'bananas'?  I wondered.
"Nanas!"
There it was again . . . Surely she was trying to say something else, right?
I dismissed it (or at least tried to . . . not wanting low self-esteem or self-consciousness to set in!), finished getting dressed and went about my day.
Several days later, the same thing happened! . . . I'm bent over, drying off and she comes in, points at my boobs and says "Nanas!"
Ok, now I KNOW that she is talking about my breasts.   I look down . . . and sure enough . . . my once voluptuous breast-milk filled melons were now hanging there saggy & deflated and looking like bananas!  [yikes!]
Well – at least they were still fruit!  🙂
First Mammogram horror stories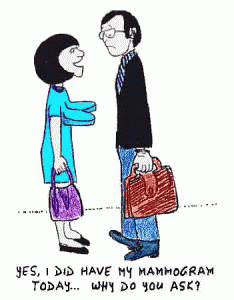 So maybe that's why it didn't hurt as bad as everyone had scared me into thinking it would (I had bananas instead of melons).
Yes, it was tight – like a blood pressure cuff that inflated a bit too much and was on your breast instead of your arm . . . but I have to say – it wasn't as bad as I imagined it to be (based upon the "exercises" above!).
Or maybe there is some sort of psychological torture that older women love to use on us "younger" ones.  🙂  Maybe because they are jealous that we are still young and might still have melons instead of bananas (that turn into banana pancakes!).
BUT – Maybe being scared and psychologically tortured about the experience ahead of time made it not seem so bad after it was all said and done.  Prepare for the worst – and then you will be pleasantly surprised!  Maybe there was a method to the madness of all the older women who told me horror stories.
Or . . . maybe I'm just one tough nut!  (Banana nut – that is!)  🙂
Well, my "nanas" have survived, don't feel worse for the wear (or squishing), and I think it's time to dish out some stories to my daughter and prepare her for "the day"!  🙂
Well . . . maybe in a few years.
She's only 12.
We'll just start with teaching self-breast exams instead.
She has plenty of time to dread the day her melons become pancakes.
Have you had your first mammogram yet?
How was your experience?  Share the TRUTH with us below!
If you haven't – and you are over 40 or have a family history of breast cancer . . . GO GET IT DONE!  (don't be a procrastinator like me)
It's not that bad!  🙂
And it could save your life!
Please share with your friends through the buttons below! Thanks!