Farm Fresh Trip – Double $1 Wednesdays
Just wanted to post my shopping trip today.
Why do I do this – meticulously set up my grocery items, snap a pic and post it? (I usually post them on FB)
Because I want to encourage you . . . especially those of you who might not have as much money as you like to spend on feeding your family.  We have 7 mouths to feed here (and my 9 year old can eat more than his teenager brothers!) – so you can imagine how much food it takes to feed this crew!
I love seeing other people post the deals they found each week, as many times they find a good deal on something I had missed (and vice versa)  . . . and yes . . . I've even gone back to the store if the deal was a great one! 🙂
How to save money on groceries
Over the next few weeks, I want to teach and encourage you that you CAN save money on grocery items.  I'll tell you what I've been doing – what's worked, what hasn't, what others are doing – and maybe you will find something in it that works for you and your family.
There is no one-way-fits-all when it comes to budgeting, shopping, saving money, feeding and dressing your family, etc.  We are all unique – and you have to find what works for you.
For now, couponing (and yes – that's a verb here!) has been working well.  I'll talk more about it next week.  But for now – this is what I was able to purchase for our family for
only $37.77!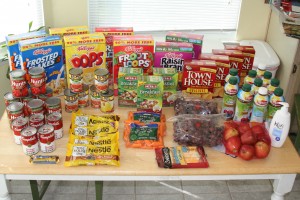 To get all this for less than $38 I shopped the sales combined with coupons (and a few rainchecks) – which is called "match-ups" (when you have a coupon that matches an item on sale!  Score!).  I look up the matchups online every Wed morning.  For Farm Fresh I always like to use my friend Lori's website – The Coupon Consultant.  She does an excellent job – and I'm amazed at the work she puts in to get her list up by 6am every Wed morning (plus raising 3 kids, homeschooling, teaching coupon classes, etc!).  She is one amazing woman – and I love supporting her!  (You ROCK Lori!)
I had a "$5 off a total of $25 or more" coupon for signing up to receive the weekly emails from Farm Fresh.  Most of my coupons were $1 coupons – which Farm Fresh doubles every Wednesday.  All the other days of the week they will double up to $0.99.  You are allowed 20 coupons per day (You can read their full policy HERE.  It's good to know your store's coupon policies so you don't run into problems.)- so I try to make sure to use all my $1 coupons on Weds -and I can always go back another day to use any that are less than $1.
I ended up getting a free bag of carrots and free cheese because those items rang up wrong.  I always double check my receipt before leaving the store.  If there are errors, I don't want to have to drive back to get a refund.  When an item rings up the wrong price (even if the price that was posted was supposed to be taken down from the previous week's sale), they will refund that item.  If you had more than one item, you will only receive 1 free item and then they will re-ring the other item(s) for the price posted.
What do you want to know about saving money on groceries?
Please share with me any questions you have and I will do my best to answer them!
I love being a good steward of what God has given me – spiritually, physically, financially, relationally and more.  And I love sharing with and encouraging others in doing it too.
Did you go shopping today?  What deals did you find?  Let me know!
Please share with your friends through the buttons below! Thanks!