Family Traditions
I know that people typically talk about traditions around Christmas – but a couple of days ago, I had the chance to talk with a casting director for an upcoming web series show called It's a Family Thing (from the producers of The Biggest Loser and MSN).  They are seeking to create a  "new, fun and positive web series aiming to highlight fun family traditions and rituals from across the country".  She was interested in some of our family traditions – be them big or small, yearly or monthly – to see if they were something that could be featured on their show.
After thinking long and hard about just what types of family traditions we do have . . . I started to realize . . I don't think ours would be very entertaining to watch on a show. 🙂  I don't have high hopes (to be on the show) . . . but I do have high expectations!
My expectations, and my renewed excitement and interest – to instill some new traditions, as well as really carry on some of our "old" ones – were definitely increased after talking with the casting director.  Not so that we have something that would be worthwhile watching us do . . . . but because I want my kids to have GREAT memories of their childhoods . . . to have something that they can say "we always did this . . . or that . . . every year (month, holiday, b-day, etc) . . . and I LOVED it!"
What are our traditions?
So as I was painfully pulling vague memories out of my aging brain, I found out that we actually have quite a few traditions . . . but people might not think of them as such (or as exciting ones).
* On Christmas eve, we always open up 1 gift.  Somewhere along the way, I heard about Christmas PJ's!  What a brilliant idea!  New PJ's to wake up in and wear while we open gifts the next day!  I thought it was a good idea (and still do) . . . but the kids . . . well . . . let's just say I've heard many a not-so-enthusiastic statement like this "oh boy . . . hmm . . I wonder what my present is THIS Christmas eve? . . . . Let me guess . . . Pajamas?"  (OK – that mainly comes from my  boys . . . as you know us girls – we ALWAYS like clothes!)  So – do I change this tradition and let them open whatever they want to on C-mas eve (and stop buying them PJ's)??  We'll see.  What's your vote?
* Every other Christmas, we rent a big house in the Outer Banks that can house all 19 members of my family (siblings, nieces, nephews, an uncle, grandparents, etc).  We spend a week over C-mas just hanging out and having fun!  Since some of our family is from out of town – this was a nice idea so that we could all be together (and no one person had to try and house everyone).  The kids LOVE it!  In fact – our first year was just a few months after Wendy came home from Guatemala.  She cried at first when I told her to pack up so we could go to the house (she thought she was having to move again and never come back!  Bless her heart!).  But she loved the vacation a lot!  The next C-mas she asked me excitedly "When are we going to go to Christmas?"  ? Go to Christmas? Oh . . . She meant the beach house!  🙂  I had to explain to her that Christmas was a holiday – not a place!   We have talked about doing it every year – but my one sister and her family only come out every other year . . . . though . . . we are thinking that shouldn't stop the rest of us! 🙂  We'll see.
* Christmas breakfast (instead of dinner) that always has to include my mom's "Christmas eggs"!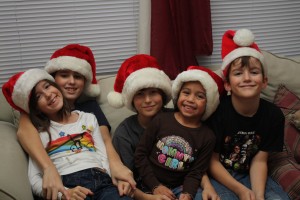 * At Thanksgiving – making my you'll-never-eat-plain-pumpkin-pie-again AWESOME Streusel-topped Pumpkin Pie – as well as the BEST turkey stuffing in the world!
* Wearing our Santa Hats and playing C-mas music when we decorate the tree (I think they get more excited about this than actually decorating the tree!).  Growing up we used to always have eggnog when we decorated – so I still buy it .  . . but alas  . . . no one in my family likes it but me! 🙁  Oh well.  More for me!
* Fun Family Fridays!  Every Friday we have pizza (or sometimes pancakes or waffles and eggs) and then do something fun – like watch a movie; play a home-made version of Deal or No Deal; play Bingo, Uno, or other board games; play Charades; etc.  We do what we can to try and not schedule anything on Fridays that doesn't include the family (It doesn't always work out – but we try).
* Of course there are the "traditional" traditions – Dying Easter eggs, doing an egg hunt on Easter; Pumpkin carving at Halloween; Making/signing Valentine's cards for the kids friends; Breakfast in bed for mom on Mother's Day and Dad on Father's Day; making sugar cookies at Christmas, etc.  But I can't get any of my kids to sit and watch the parades on Thanksgiving or New Year's like I used to!  What's up with that?!  I think I was more attached to the Rose Bowl Parade as I used to be able to watch it from our apartment window in California – and one of our school field trips was to go and see how the floats were made.  My father used to sell Kodak film along the parade route for those that forgot theirs or ran out (man – that wouldn't make any money today!).
* Family Birthday dinners at my mom and dad's house with my brother's family!  We'll eat, talk, play games, swim at their lake, or sometimes be nerds doing Sudoku while the men talk tech stuff. 🙂
* Going to the beach on the 4th of July – and staying to see the Fireworks!
The traditions that my kids don't like
Yes – we have a couple . . .
* My tri-annual mandatory "photo shoot" (at Easter, Mother's Day and Christmas.  Sometimes I'll throw in Thanksgiving too – especially if I need a family picture for my Christmas/New Year's newsletter).  I've resorted to bribing the kids (as threatening, pleading, and finally crying didn't seem to be working too well).
* Our monthly "living room sale" (which I might have to describe in another post one day)!  I LOVE this one – but the kids don't.  Stay tuned to find out what it is!! 🙂
What are your traditions?
So what is something that your family does – either big or small, yearly, monthly or weekly – and that is building memories, bringing your family closer together, inviting laughter, peace and joy into your home?  Can you think of any?  I'm sure you have some.
What kind of traditions did you have growing up?  Do you want to continue them in your own family?
What new traditions do you want to start?
What are the traditions your kids remember or enjoy?
Talk about traditions
Engage your family this week in a dialogue about your traditions.  Enjoy the conversation.  Laugh.  Cry (if you feel the need). Remember.  And get creative!
My husband's family had a tradition for years and years at Christmas.  It was to pass on this ugly, old rubber chicken to someone – all wrapped up as a present.  You never knew who was going to get it (and sometimes couldn't remember who got it last . . . especially if they had forgotten to pass it on the next year).  The first year I opened it up – I didn't have a clue what it was all about – but my husband burst out laughing!  Welcome to the West family and the inside joke/tradition! 🙂
My sister and her hubby had a small Chewbaca toy (from Star Wars) that they would randomly leave for the other one to find.  It would wind up in drawers, shoes, on ledges, etc.  It was a strange, yet fun way to remind their spouse "I love you" and to have some fun. 🙂
Think Creatively
So let me know what some of your favorite traditions are in your family!
Is it Sat morning breakfast at IHOP? Sunday brunch?  Or one of my kid's favorites – getting Slurpee's on the way back home after a hot day at the beach!
Let me know what new ones you come up with!
Though . . . if it's a really good idea . . . I just might have to steal it! 🙂
Please share with your friends through the buttons below! Thanks!