Couponing Sites
Many people have asked me where I get my coupons, how did I learn about couponing, where can they find more info, etc.
Here are a few places I use or have used in the past.  As I come across more, I'll add them here.
Happy Couponing!
I used this site a lot in the beginning – for finding coupons, sales matchups, etc.  However, I now use the Coupon Database on my site, and a friend's blog to find my local matchups for Farm Fresh (the main store I shop at).
AFullCup has forums where you can find sections for all the major stores like CVS, Rite Aid, Walgreens, Walmart, Target and other grocery stores.  You can discuss all sorts of deals with other couponers.  There is also a Coupon Trading section if you have coupons you won't use and want to trade for ones you need.
My #1 place for printing coupons.  This is often the first place I check!  You can also find some of their coupons on this blog under Printable Coupons.
With 5 kids – we go through a LOT of cereal here!  So this site gets used almost every week it seems!
I use this frequently as well.  You might already get Redplum coupons in the paper or in your mailbox, but this is a great place to print more coupons.
Want to know ahead of time what new coupons are coming in the paper?  You can go online to this site, or have email alerts sent to you.
Some other sites worth checking out
I have not necessarily used these much (or at all), but have friends who have, or they have been recommended to me.  You can let me know what you think!
Deals for Mommy is working hard to be the best spot to find the greatest local and national deals on the web. With the help of members like you, we are pinpointing the deals that are the perfect fit for busy moms. As a member, you'll receive instant coupons, free samples, and valuable offers from brands you know and trust. Join the power of moms working together!
For those who don't like to clip coupons . . . you can add coupons right to the stores grocery savings card (check the site for specific stores).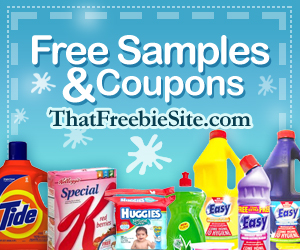 Just like it says – FREE samples and coupons – every day!  (I'm going to be checking this site more frequently I think!)
Free to sign up, and Free to get samples!  I LOVE getting free samples!
L'Oreal Rewards
I am definitely going to be checking this one out!  My son was pointing out more grey hairs on my head today!
Scrubbing Bubbles – Right@Home

If you haven't already signed up – just click the banner to do it today.
WomanFreebies.com
If you are a woman and like Freebies!  (That's me!!)
As I find more sites for coupons, freebies and ways to save you money – I'll add them to the list.  If you have any you'd like to share with us – leave a comment and let us know!
Blessings!
*Disclaimer: Affilliate links have been used on this page and on this blog – but all opinions are my own!