I won't shop online without this!
What on earth am I talking about?  What is so vital that I won't shop online without it?
[I'll give you a hint . . . it's not my credit card!]
Online Coupon Codes
Many of you remember that in the Fall of 2011 I was part of a contest put on by an online coupon code website – and was trying to win a $100,000 job blogging for them.  Unfortunately I didn't win – but I did VERY well . . . coming in 6th place out of 3,000 who entered!
52 contestants were in the 3rd and final round of the competition – and for 21 days, our butts were numb, our fingers sore and carpal tunnel syndrome was setting in from looking for deals, hours on end, every day!  Each day we would be given a new item to find online (with specific requirements – on the item, on the coupon codes we could use, the websites we could "shop" from, etc) – and we had 24 hours to find the best deal with a coupon code!
It was grueling.
It was stressful.
I never knew couponing/deal-finding could be so taxing.

Normally it's not . . . but when you know that you have 51 other contestants all trying to beat you in the best deal . . . it takes a long time to search the WHOLE internet (and yes – I came to "the end of the internet" several times! 

)
But even with the aches and pains, numb butt, crossed eyes, and stress of not knowing if I found the "best" deal each day . . . through it all I learned some very valuable things about finding great deals and saving even more money using online coupon codes.  I couldn't believe how much more I could save on things I was going to buy anyways – just by doing a little research for a code and then plugging it in during checkout.
Is it worth it?
"That's too much work for me to worry about!"
"I don't have time to be searching all over the web for codes!"
Yes, I know.  I hear your reasons (ahem . . . excuses!).  🙂  It's actually quite easy, and doesn't take much time at all.  But . . . if you like paying full-price, are not in debt, don't ever have to worry about money, paying bills, and never EVER complain about not having enough money . . . then by all means . . . just check out without a code!  🙂
Or – you can choose to believe my mom (I won't tell her age . . . but yes, she is a senior citizen), who just told me today "Lori – I am sooooo thankful for you, that you told me about using online coupons!  Just this week I was ordering something online and quickly looked to find a coupon code, entered it, and saved 20% off!  THANK YOU!"
Now . . . if my mom can do it . . . . what's your excuse?!  🙂
How to find codes
There are a variety of online sites that will list coupon codes.  I do not stick to just one, as no one site has all the codes.  Many sites rely on it's users to submit codes that they find and know about, and some will even pay you if someone uses the code you submitted!  [Score!]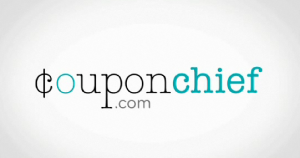 One such site is CouponChief.com.  I have used other sites like CheapSally.com, Retailmenot.com, techbargains.com, couponcabin.com and others – but was thrilled to learn about Coupon Chief!
They are one of the "fastest growing coupon sites, with over half a million visitors per month and 100k+ coupons to 30k+ stores."  They also have a Pays-2-Share program, where they pay users to submit codes (you get 2% of the purchase price when someone uses your code)!  [You know I like making money as well as saving money!]
How to use the codes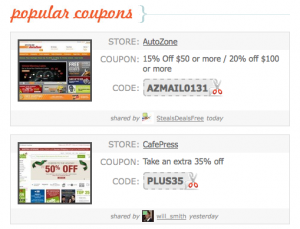 CouponChief.com has a video and short tutorial on how to use the codes, that you can watch and read.  But honestly – it's as easy as copying the code and pasting (or typing) it into the box/space provided during checkout from whatever site you are purchasing something from.  The discount will be applied and you will see your savings!  (YAY!)
Don't get discouraged if you can't find coupons for some things . . . you won't always find a code for some companies or items.  But I ALWAYS look before purchasing . . . because if I can save $$ – it's worth the few minutes of searching that it takes!
What is your favorite coupon code site?
And what's the best deal or most money you have saved by using an online code?!  Share some of your "wealth" of experience and knowledge below!
*Disclosure: Sponsored post (gotta keep the blog running!) – but all opinions are my own!  I do not guarantee that you will save money by using any specific website or code – but I love sharing my own experiences if it will help others save or make money!  Please share yours with us as well!
Please share with your friends through the buttons below! Thanks!