17 years ago today . . . I became a mom!
Happy Birthday!
17 years ago today, after 30 hours of labor, I finally got to find out just who had been hiding inside of me for 9 months and had made me a mom!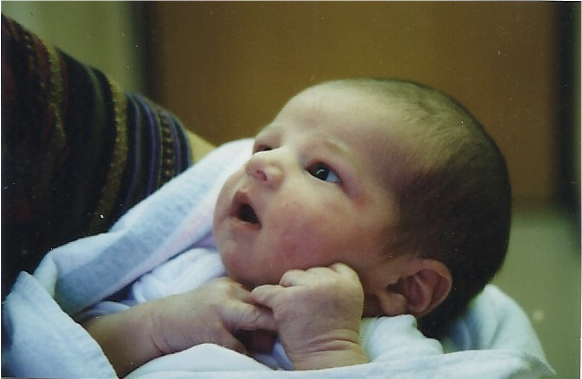 I sure do love this boy and am blessed to be his mom!
A 17 year journey . . .
Raising him has been a journey (as it is with any child) – and we've been blessed to discover his talents, abilities, unique qualities and traits that make him who he is and who he will become.
He taught himself the ABC's and numbers up to at least 20 by the time he was 22 months (not sure how he learned it -as he didn't like reading books then or watching much tv, and I sure didn't teach him because I thought you didn't teach those things till they were a little older).
He was quirky as a toddler  (organizing things by shape, color, etc; lining up his matchbox cars at the end of the coffee table – then moving them all one by one to the other side in a perfect line, without making any car sounds- over and over again for hours . . when he was 18 months!, etc)- but being my first . . . I didn't really know any better.
Early in school we always said he's a "just the facts ma'am" kind of guy – who didn't know how to pretend when playing . . ."But I'm not a dog.  I'm a boy.  Why would I act like a dog?" he told his preschool teacher when she tried to get him to pretend to be a dog for a skit.
He was a happy kid . . . but always wandering off (we lost him 5 or 6 times in the National Zoo, and the common phrase we heard everywhere, even at his baseball games, was "Where's Tyler?!").  He was in his own little world, and yet absorbed everything around him ("through osmosis" I would say!), super smart, socially clueless (yet friendly, happy and smiled alot), and took everything I said literally!  One night when he was 3, he came into our room around 2am.  I said "Hon, – go back to your room and shut the door.  It's really late.  Ok?"  – meaning . . . "Go back to bed".  He said "Ok" and went to his room and shut his door.  A few minutes later I heard the little pitter-patter of feet coming back to our bedroom . . . "I did it!"  he proudly proclaimed!  🙂 Yes – he had done exactly as I had said . . .but not what I meant.  🙂
The Gift of Asperger Syndrome
Over the years, new issues developed, and we tried finding out what was going on with our precious boy.  Was it just that he was "gifted"?  Did he have ADD?  Where did the anxiety and depression come from (in 3rd grade)?  What was going on?  As he got older, we could see more and more of a difference between him and his peers and were not sure what to do and how to help him with some of his struggles.
Finally in 5th grade we got a diagnosis to help explain his uniqueness, struggles and why he "marched to the beat of his own drum" throughout life . . . Asperger Syndrome!
At first I didn't think this was the right diagnosis, but when I looked up what it was, what the signs were – I could check off almost all of them throughout the years.
It all made sense now – and connected the dots much more so than just "well, he's gifted . . . he's unique . . . he's just different".  What a relief to now know what was going on, and now – how to be able to help him, how to respond to him with understanding, speak so he can understand, etc!
A label – or an explanation?
Some people don't like labels . . . but for us – it was an answer to a long asked question (a series of questions really).  It put the puzzle pieces together and made a beautiful picture!  To my son – it truly has been a gift!
If you asked him today, if he likes having Asperger Syndrome and is glad that we told him about it . . . he would emphatically and enthusiastically say "YES!"
He loves so many things about it . . . how it makes him unique, how it allows him to be so creative with the things he loves (music, writing and video games), how it has helped him through the teen years – to not get caught up in the social pressures to conform, and how it has helped him explain (to himself and others) why he's quirky and different.  He realizes also that everyone is different (we all have different hair and eye colors, likes, dislikes, fears, ways we do things, etc) – and that it's ok to be you, the way God made you.  He lives his life that way!
Every year kids write things like this in his yearbook like –  "Tyler – thanks for showing me that it's ok to just be me – no matter what others think!"  He truly does live life – "The Tyler West Way!"  (this is what he told me when I tried explaining that people don't usually wear 2 different colored socks.  "Mom – it's the Tyler West Way" he proudly proclaimed!"  🙂 )
17 years later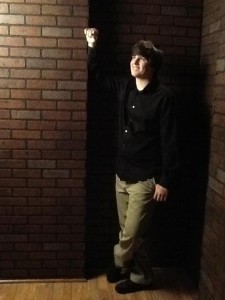 Now . . . here we are at the beginning of his senior year . . . and I'm realizing . . . Time has gone by way too fast!
As I look through his baby book and pics of him over the years – I wish I could go back to some of those days . . . sit and read a little longer, snuggle a little more, pay attention to his crazy stories (yes – even the video game ones!), and just enjoy the moment before it passed by in a flash!
But I am also trying to enjoy the moments now . . . watching him grow into such a beautiful young man – tender, compassionate, creative, loving and more!
Is it without struggles?  No.  But the struggles are worth the pleasures of being his mom and pouring my life into him.  The struggles are what make him unique, what will make him into the man he will become, and have made me into the mom and person I have become.  They make us stronger as we learn, grow, adapt and change because of them.
Enjoy the Days . . .
If your kids are still little . . . take the time to enjoy them today (Yes – even the "craziness" that comes with having little ones) . . . because you will blink and one day they will be grown! (Trust me!)
Please share with your friends through the buttons below! Thanks!